At UDS, I learned that I am a poor frozen-bubble player. After getting repeated trounced by pitti, I decided I had to find some way to level the playing field. I was my own worst enemy due to my bad aim, but all the malus (as in, the opposite of bonus) balls were clearly causing me greater pain. I wrote a patch that creates a new key binding "b" to toggle the blocking of malus balls. Using this made things a little more even, and after a week of practice, I was a much better player (and quit using my cheat).
Since frozen-bubble depends on a shared game state between all players, everyone will notice if you're using a mod like that, since they will just queue up on your malus post: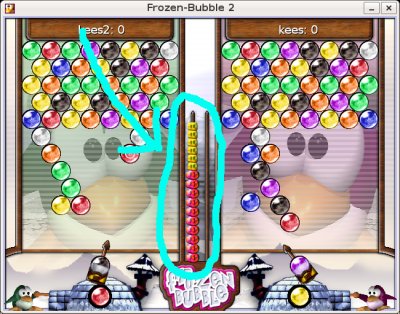 So be sure you're playing with people you know. :)
© 2006 – 2015, Kees Cook. This work is licensed under a Creative Commons Attribution-ShareAlike 3.0 License.