I think it would be fun to add an achievement system to the Ubuntu Desktop, like is done on Steam and XBox.
The tricky part is tracking various events and finding amusing correlations. For example, if your screen-saver kicks in 40 times in a single 24 hour period, you could earn the "Alternating Current" achievement, indicating that you're being repeatedly interrupted all day long: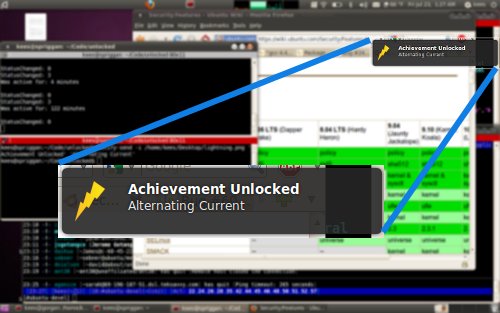 There are all kind of things to track and correlate. Miles moved with the mouse, clicks taken, keys pressed, files opened, applications installed, buddies added, IMs received, sent, etc. There are all kinds of achievements that could be designed that could be used to help people discover how to use Ubuntu, or for just plain humor. "Achievement Unlocked: Application Deficit Disorder" when you uninstall 100 applications you installed in the prior week.
I've been told this might all be very easy to implement with the Gnome Activity Journal (Zeitgeist), but I haven't had a chance to investigate further.
UPDATE: I can easily imagine this being tracked in CouchDB, synced between systems via UbuntuOne, and could be linked to any other remote APIs that people could dream up, including Launchpad, Forums, REVU, Identi.ca, etc.
© 2010, Kees Cook. This work is licensed under a Creative Commons Attribution-ShareAlike 4.0 License.